Polari
Click here for a full-length background study on Polari
Polari can be defined as an 'in-group secret lexicon'. It is not a complete language but a lexicon. Nowadays known as a gay slang, it originated as a Lingua Franca among sailors in ports up and down the country and then became a theatrical and homosexual slang prevalent in London during the 1950s and 1960s. From the 1900s onwards, Polari became a huge phenomenon and was used ubiquitously by Britain's gay community. Its use was rife in Soho's gay clubs, bars and backslums in the 1950s before the decriminalisation of homosexuality in 1967. Popularised by characters 'Julian and Sandy' in the Radio 4 programme 'Round the Horne', it had its heyday in the 1960s and was enjoyed by nine million listeners a week. Nowadays, it is still used among older gay men but more for nostalgia rather than secrecy. It is starting to become popular again with a younger generation.
Polari has been influenced by a number of different languages and vernaculars. Cockney rhyming slang is omnipresent throughout the vocabulary. The table below shows a few examples.
| Rhyming word | Derived from... | Meaning |
| --- | --- | --- |
| minces | mince pies | eyes |
| plates | plates of meat | feet |
| two and eight | two and eight | state |
| Hampsteads | Hampstead heath | teeth |
Other popular influences are Romani, Yiddish, Lingua Franca, Spanish, Occitan and Italian. The map below shows how Polari came to be influenced by various different languages.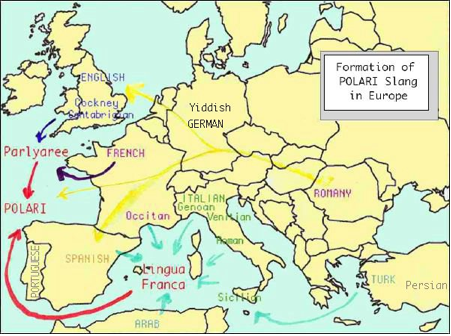 Polari's function is not to provide a completely separate lexical system from English but rather a 'pool' of secret words sufficient to make cryptic any utterance that needs to be kept from outsiders. It is an anti-language, a humorous slang and a lexicon in its own right used as way of establishing an identity.
Below is an example of Polari.
'Well, if you could have vardered the eke on the omi-palone in the sheitel: the screech dropped open; the vogue fell out; she even dropped her bevvy with a crash that prompted some butch polone-omi to yell 'There goes another aunt Nelly fake'. 'Did you varder that bold omi-palone?' she polaried to my friend Gordon who was propping up the bar next to her, all the better to show off his rather bona dish and distract attention from the cod eke and chronic pots. Shame really as she's quite bona vardering, even if she does cake the eke in half an inch of slap which she thinks no-one notices. Doesn't really go with her big tattooed navvy's marts which she waves around a lot to show off the groins, and the size twelve plates, squashed into bats a size too small 'cause she's conscious of them. She used to be quite butch when she first came in here, but that was back in the year blob. Now she's the living breathing truth that today's trade is tomorrow's competition.
Here are the definitions of the above words (in part from Baker (2002)):
| Word | Meaning |
| --- | --- |
| vadered | past tense of vada: look at |
| eke | face backslang, derived from ecaf |
| omi-palone | homosexual man |
| sheitel | unknown |
| screech | mouth |
| vogue | cigarette |
| bevy | drink |
| polone-omi | lesbian |
| aunt Nelly fake | earring |
| polaried | from polari: to speak |
| bona | good |
| dish | attractive man/bottom |
| cod | bad |
| pots | teeth |
| marts | hands |
| plates | feet |
| bats | shoes |
| butch | aggressively masculine |
For a recording of Polari, visit the BBC Voices website
References
Trudgill, P. Language in the British Isles.
Stanley, J.P. Homosexual Slang American Speech 45
Lucas, Ian. 1997. The color of his eyes. Polari and the sisters of perpetual indulgence. Anna Livia and Kira Hall. Oxford University Press Queerly Phrased
Baker, Paul. 2002. Polari: the lost language of gay men. Routledge
Davies, R. (ed). 1993. The Kenneth Williams Diaries. London: HarperCollins