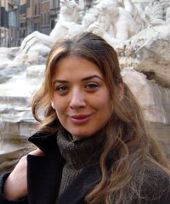 Şirin Tufan
Şirin Tufan completed her BA in English Linguistics at the University of Hacettepe, Ankara in 1993. She holds an MA in Diplomatic Studies (University of Westminster, London) and an MA in Linguistics (Bogazici University, Istanbul). She is currently completing her PhD in Linguistics at the University of Manchester. The title of her PhD thesis is Language convergence in Gostivar Turkish (Macedonia). She is a lector in Turkish in the Middle Eastern Studies (University of Manchester).
Her research interests are: Language Contact, Language Convergence, Turkish language and its dialects in the Balkans, Languages of the Balkans. Şirin Tufan speaks Turkish, English, Macedonian, Serbian.
Publications and Talks:
2006. Strategies in harmonising utterance structure in Gostivar Turkish (Macedonia). Paper presented at13th International Conference on Turkish Linguistics, Uppsala, Sweden. 16th-19th August.
To appear. with Yaron Matras. Contact-induced change in Macedonian Turkish. In: Grammatical Borrowing in Cross-Linguistic Perspective. Edited by Yaron Matras and Jeanette Sakel.