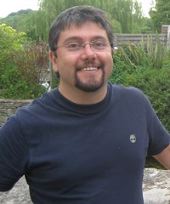 Francesco Goglia
Francesco Goglia received his university degree from the University of Padova. He completed his MA and PhD in Linguistics at the University of Manchester. The title of his PhD is Communicative strategies in the Italian of Igbo-Nigerian immigrants in Padova (Italy): a contact linguistic approach. Right after his PhD he worked as a research associate in the Convergence Project at the University of Manchester. He has taught part-time Linguistics at Salford University and Italian language in various schools and colleges.
He is currently a lecturer at the University of Exeter. His research interests include: Language Contact, Code-switching, immigrant varieties of Italian, Second Language Acquisition, Creole Linguistics, Language Change.
Publications and Talks:
2005. Grammaticalization, reanalysis and contact-induced innovations in the Italian of Igbo-Nigerians. Paper presented at the LAGB Annual Meeting, University of Cambridge
2004. The interlanguage of Igbo Nigerians immigrated in Italy, with particular attention to the interference with English language. In: Il soggetto plurilingue. Interlingua, aspetti di neurolinguistica, identità e interculturalità, Franco Angeli.